Zapewne wiele osób chciałoby oglądnąć jakiś ciekawy mecz niemając tego kanału w swoim "pakiecie".
Przedstawiam wam program Sopcast..
"SopCast jest darmowym i prostym w użyciu programem pozwalającym na podgląd internetowych strumieni multimedialnych. Dzięki unikalnemu wykorzystaniu technologii p2p aplikacja pozwoli na oglądanie wielu kanałów telewizji, a nawet na wysyłanie sygnału własnego kanału."
1.Pierwsze co należy zrobić to ściągnąć ten oto program.
Polecam z tąd
Link
.
2.Następnie oczywiście instalacja..
3.Po uruchomieniu programu pokaże nam się mniej więcej takie okno: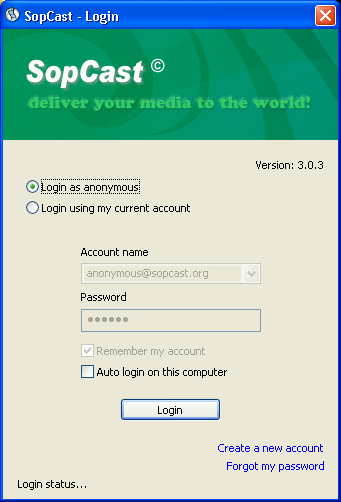 4.Zaznaczamy "zaloguj jako anonim" i loguj.
5.Wchodzimy na
http://www.soccer-live.pl/
. Po prawej mamy liste np. jak mecz jest w sobote to klikamy "Sobota" A jak w poniedziałek to "Poniedziałek-Piątek".
6.Szukamy interesującego nas meczu i gdy znajdziemy patrzymy na kolumnę "SopCast" i klikamy na PLAY wtedy nam się włącza kanał. (Niekiedy może nie być ale o tym później.) Zwykle po angielsku lecz niekiedy po polsku. Pisze po lewej.
Oczywiście gdy nie znajdziemy na tej stronie jakiegoś meczu lub nie będzie odnośnika "PLAY" możemy poszukać na innych.. Jest ich wiele.
Niekiedy może się zacinać ale u mnie zwykle tylko na początku jak się "buforuje?". Jakość jak wiadomo nie jest HD ale nie ma co narzekać.
Gdy ktoś chce bardzo oglądnąć jakiś mecz to wiadomo przeżyje po angielsku ( jak umie to dobrze
).
Przez to można też oglądać np. Discovery
(po angielsku)
Często gdy u mnie coś nie "leci" wykorzystuję ten sposób.
Mam nadzieję, że się komuś przyda